A firefighter inspects a facility to support senior people on welfare, where a fire occurred, in Sapporo, Japan, in this photo taken by Kyodo on February 1, 2018. Mandatory credit Kyodo/via REUTERS

TOKYO (Reuters) – Eleven people were killed in a fire at a low-rent residence in northern Japan that mainly housed elderly people on welfare, police said on Thursday. Five people were rescued.
The cause of Wednesday night's fire in the city of Sapporo, on the island of Hokkaido, was still being investigated and victims were still being identified, police said.
Public broadcaster NHK coverage of the fire showed flames engulfing the three-storey building surrounded by piles of snow. Aerial footage from Thursday morning showed the blackened, smokey remains of the building.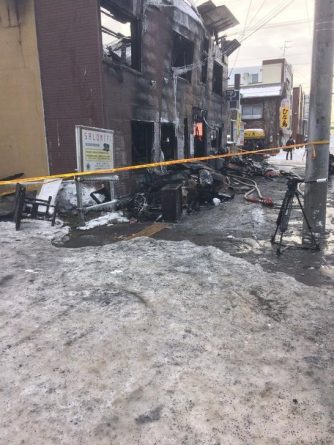 Three of the survivors were being treated at hospital but their condition was not life-threatening, police said.
The facility was run by a Sapporo organisation that helps people on welfare by providing food and assistance finding jobs, NHK said. Renters paid 36,000 yen ($330) a month, it said.
Japan is a rapidly ageing society. Over 35 million Japanese people were 65 or older last year, or 27.8 percent of the total population, up from 21.5 percent a decade ago, government data showed.
In March 2010, seven people at a Sapporo nursing home for elderly people with dementia were killed in a fire.
Last month, 37 people died in fire at a hospital without sprinkler system in South Korea injuring more than 150 people.
($1 = 109.1600 yen)
(Reporting by Kaori Kaneko; Editing by Malcolm Foster, Paul Tait and Michael Perry)
Copyright 2018 Thomson Reuters. Click for Restrictions.