By Dinnierose Raiko – EMTV Sports, Port Moresby
Over 50 kids were at the Port Moresby Racquets Club yesterday (April 22) for their usual tennis clinic. Unlike other Saturdays, this time PNG International Tennis Professional and Kina Ambassador Abigail Tere-Apisah was present to coach the kids through the basics.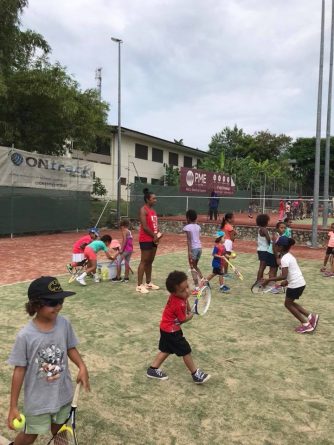 Every Saturday, kids within the ages of 3-16 along with their parents gather at the Port Moresby Racquets Club for Tennis Coaching sessions. And yesterday's session saw PNG International Tennis Pro Abigail run the kids through some of the basics of Tennis.
The program itself is usually run by Abigail's parents, Kwalam and Verenagi Apisah who are the first two Papua New Guinean qualified tennis coaches.
"We have this program every Saturday from 8:30 am to 11 am, and today wasn't any different except that we're really thankful to have my sponsor Kina Bank come on board and sponsor today's events with refreshments and T-Shirts," Abigail said.
With the aim of teaching the children the basics of the sport at an early age, the Tennis Pro believes this is the first part of the development process. Though Abigail admits turning into Pro takes a lot of time, there has to be somewhere the children can start, and that is exactly what this program is about.
"I've said this time and time again, a lot of these kids here are unable to come every day, I guess it is because of finance or transportation-wise, or parents have work in the afternoon, so it is hard for the kids to come every day. So on Saturdays, we try to have this program which allows parents to be able to bring their kids in the mornings. We can't expect  these kids to become professionals by just playing once a week. So I think the overall aim of this program is to introduce the sport to people in PNG. It also gives an opportunity to just get out of the house, meet new people and basically learn the sport,"  the Tennis Pro added.
Abigail explained that due to age variations, the type of basics taught during the clinics varies.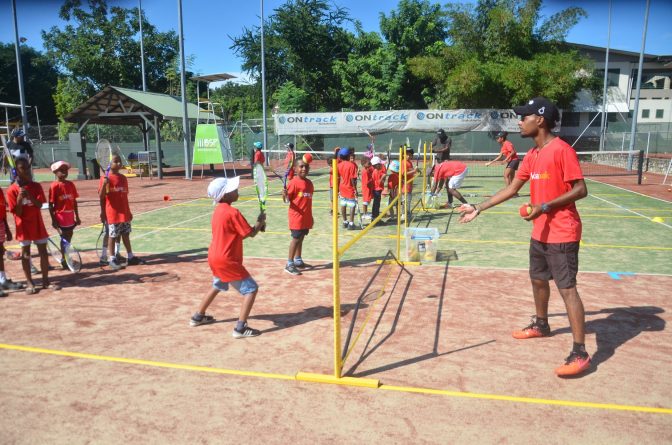 "We usually split them up in their different age groups or their ability and we have about 4 senior coaches and 5 to 7 assistants and each coach deals with one of the different age groups and then we work accordingly. So whatever the senior elite group does is obviously different to what the 3 or 4 year olds".
While the kids walk away from yesterday's training with some valuable tips from this session, Abigail is now getting ready to embark on her next international circuit.
"I am actually here for a few more days and then I leave for Japan on Wednesday for a month and then I will head over to England". the 25 year old Tennis Pro told EMTV Sport.