A combination picture shows Palestinian demonstrators during a protest at the Israel-Gaza border in the southern Gaza Strip April 6, 2018. REUTERS/Ibraheem Abu Mustafa
By Nidal al-Mughrabi
GAZA BORDER (Reuters) – As plumes of tear gas drift across the Israeli no-go zone inside Gaza's border fence, Palestinian protesters dart between them, relying on an array of home-made devices to keep out the fumes.
Medical masks, plastic bottles, T-shirts and keffiyehs have all been pressed into service against the gas canisters fired daily by Israeli troops. One ingredient is common to many of the devices: onions.
A single vegetable's effectiveness is questionable when pitted against the latest "riot dispersal means" deployed by one of the best-equipped armies in the Middle East. But the protesters persist.
Some say they are imitating the techniques used in the first Palestinian intifada, or uprising, against Israel in the 1980s. Others have copied masks they saw in Hollywood movIes such as 'V for Vendetta.'
Jehad Abu Mehsen, 48, covered most of her face with a plastic bottle holding an onion in place over her nose. She was sure that the more onion she used, the longer she could stay at a protest.
"It does help to alleviate the strong smell but it doesn't stop the gas from coming. I have twice been taken to the medical tent to be treated," she said.
Mazen Al-Najar, 15, preferred a cocktail of ingredients – an empty Coca Cola can filled with cotton, perfume and coal.
Asked what would he hope to become when he grew up, he paused before saying, "Maybe a mask-maker."
Tear gas is by no means the worst hazard faced by the protesters.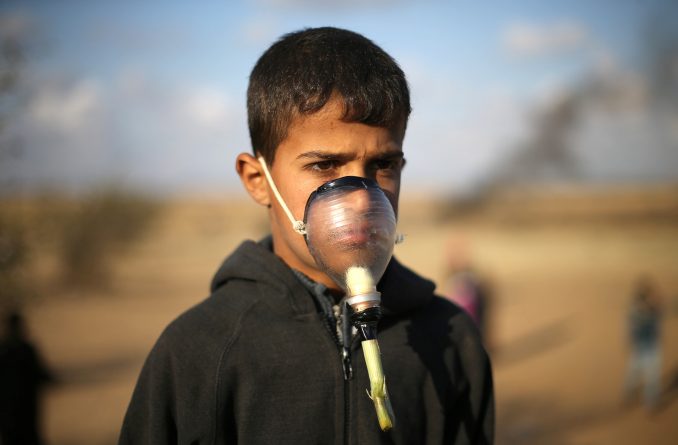 Thirty Palestinians have been killed during the six-week "Great March of Return", which has renewed longstanding Palestinian demands for the right to return to the homes that their families fled during violence surrounding the creation of the state of Israel in 1948.
The Israeli government refuses to grant Palestinians any such the right to return, fearing that the country would lose its Jewish majority.
Israel's military and political leadership have defended the use of live fire against protesters, saying that they will continue to protect Israel's border.
They also accuse Hamas and other militant groups of instigating the demonstrations and using them as cover to launch attacks. No Israelis have been killed or injured.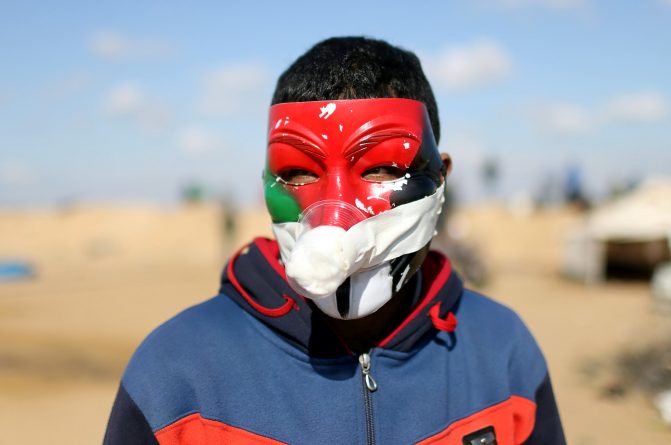 Protest numbers are expected to rise on Friday, when the demonstrations reach their peak. So far, according to Gaza's Ministry of Health, 3,000 people have been wounded, including 900 suffering gas inhalation.
Mahmoud Al-Khuzundar, a chest physician in Gaza, said the protesters' makeshift means of protection were useless against direct exposure to tear gas, and had more of psychological impact.
"Some people try to be creative, others want to look tough," he said.
(Reporting by Nidal Almughrabi; Editing by Angus MacSwan)
Copyright 2018 Thomson Reuters. Click for Restrictions.