By Noemie Olive
LILLE, France (Reuters) – When Daniel Essa fled Syria in 2014, he faced an uncertain future as a refugee in France, where he knew few people and less French. Now he is selling his own brand of luxury sneakers to the wealthy of Paris and Hollywood.
The 30-year-old studied fashion in Damascus but abandoned hopes of a career in his homeland and fled the war to settle in Lille, near the Belgian border.
His simple but chic leather sneakers with a strip of stretchy fabric rather than laces sell for an average price of 330 euros ($390).
Actress Whoopi Goldberg placed an order after spotting a prototype pair on a friend's feet at a fashion show in the United States and asked who the designer was, Essa told Reuters from a boutique that stocks 28 style of his shoes.
His first shop opens in the next two weeks. The shoes are already on sale in Beverly Hills, Paris and Ajaccio, Corsica.
Taught to sew by his grandmother, Essa had to persuade his parents that fashion was not just something for girls.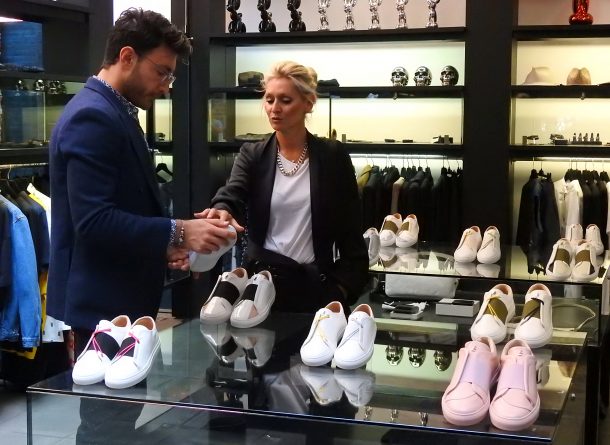 "The rest of my family was against it because it wasn't a man's job, it was a woman's job. So it was our little secret between my grandmother and me, doing it behind my family's back," he said.
It was a tough decision to leave Damascus, which, unlike his home town of Homs, had escaped the worst of the fighting, especially as Essa had already set up a workshop and shop in the capital.
"We saw that the war had started to reach Damascus. There were attacks almost every day and I saw my friends and many families starting to leave one after the other – of course, the lucky ones, those who could afford to go." He has not seen his family since he fled.
Each pair of Daniel Essa shoes is etched with a word under the tongue: "Freedom", "Kisses", or "Peace".
"Everybody talks about world peace, but I really hope that one day we will have peace in our world," Essa said.
(Writing by Robin Pomeroy; Editing by Andrew Heavens)
Copyright 2018 Thomson Reuters. Click for Restrictions.