Jana Zoriry – EMTV Online
His Excellency, Apostolic Nuncio, Archbishop Kurian Mathew Vayalunkal has urged participants of the recent International Short Film Festival (ISFF) to use the media to disseminate 'Good News'.
"The media is used to inform, educate and entertain. We need to use this vital tool to spread the 'Good News'," says Mr Vayalunkal.
The festival saw teachers, parents and selected students from seven schools in NCD participating in film discussions and viewing of short films.
The festival was hosted by the Catholic Bishops Conference (CBC) of Papua New Guinea and Solomon Islands with the theme "Youth Alive, Celebrating Life and Love", received praises from the audiences.
"Every film was inspiring and gave the audience points to reflect and ponder," says Sheryll Isoaimo, who was the MC for the event.
"I am inspired by the films. Despite the difficulties and temptations, I have been inspired to live my life for others", adds Tamarah Munjin.
Representatives from the schools highlighted the importance of the media and how best they could use it to share and communicate a message through the use of radio, print media and videos.
Marianville student, Ashleigh Pangatana, in her sharing said: "The media education seminars have taught us to spread good news and not fake news."
Fr Ambrose Pereira sdb was impressed by the dedication and commitment shown by the students and says the ISFF offers young digital natives an opportunity to reflect on their vocational journey.
Fr Pereira expressed his gratitude to the principals of the seven schools for supporting their budding media students.
Among the guests at the event was Fr Klement Vaclav sdb, Fr Alfred Mara Villa sdb, Principals, parents, students, and representatives from Australian High Commission.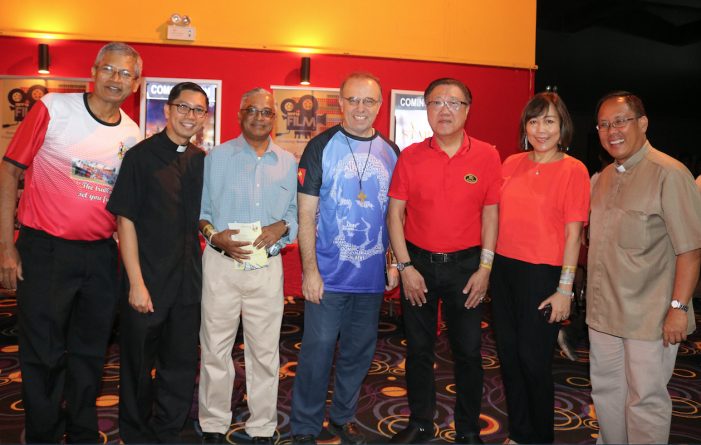 The seven schools in NCD were:
Jubilee Catholic Secondary;
Sacred Heart Teachers College;
Don Bosco Technological Institute;
Don Bosco Technical School;
Marianville Secondary School
Limana Vocational School; and
Caritas Technical School.
Source: Catholic Bishops Conference Press Release