Mi Riporter Francis Kiap reported today (June 12) of an incident between two tribal groups relating to land disputes over an alluvial mining operation.
"From what I know, It is land dispute over an alluvial gold mining operation that takes place along the river banks of River Bulolo at Sambio, past Kumalu towards Bulolo." Mr Kiap said.
A fight started between two landowner groups that resulted in the burning of market houses.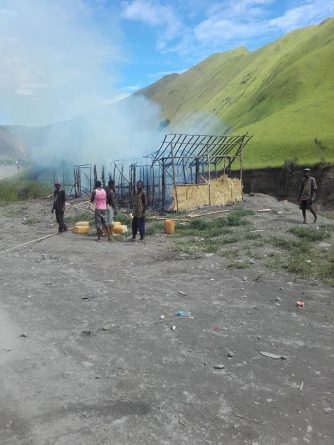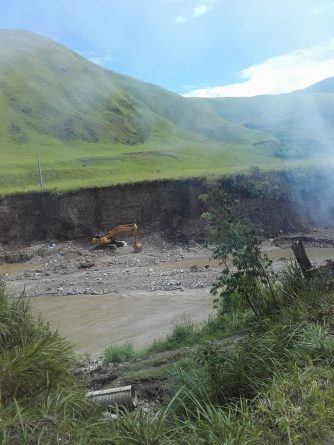 "Stones were all over the road as I passed. I saw young men and women with bush knives along the road." Francis Kiap reported. 
As the  Police personnel from Bulolo negotiate with the battling groups to bring the situation under control, Kiap said, a mother shouted out from the other group "Mipela pait long graun (we are fighting over the land)."
Mr Kiap who is also a graduate mining Engineer, said the Mineral Resource Authority (MRA) has granted approval for alluvial mining along this section of the river without the use of fixed process plants such as table screens, shakers or trommels.
He said three (3) excavators are used for stockpiling of river gravels.
"Manning (man power) is used to wash stockpile onto sluice boxes. Water pumps are used to eject water at controlled pressure and velocity onto stockpiles to carry gravels and fine sand through the sluice boxes while boulders are removed by hand. Gold particles, being denser, are captured at sluice boxes and then recovered through panning. A good volume of gold is recovered in a day. That could be the reason for dispute."
According to Mr Kiap, the operation has been going on for almost 6 months.