Image: (L-R): Events Chair of MSOC Dr Waikesa Kalala, Assistant Secretary MSOC, Treasurer MSOC, Acting Chair amd Fundraising Chair MSOC Dr Sammy Thomas, NGCB CEO Imelda Agon, Patron of MSOC Sir Peter Barter, and Transport and Security MSOC Moses Lolale.
Jana Zoriry – EMTV Online
The National Gaming Control Board (NGCB) has donated K200,000 to assist in the hosting of the 2018 Medical Symposium which will run from September 2 – 7 in Madang province.
NGCB Chief Executive Officer, Imelda Ago, presented the cheque to the Symposium Organising Committee on Saturday (August 4, 2018) at the Madang Resort.
Ms Agon said that NGCB decided to come on board to assist because they felt that there was a need.
"We are grateful to be here today (04 August 2018) to help you with the medical symposium to see that whatever you are doing in terms of rural health, our people benefit," Ms Agon said at the cheque presentation.
Patron of the 2018 Medical Symposium and local businessman, Sir Peter Barter thanked Prime Minister Peter O'Neill, who is also the Minister for National Gaming Control Board for the timely support.
Sir Peter Barter said it was challenging to raise enough money to host this year's event due to financial challenges faced by businesses around the country.
"Lots of government spending is in Port Moresby while we in the provinces are really suffering badly due to lack of funding to provide essential services in particular health services around Papua New Guinea," says Mr Barter
NGCB has also presented another K200,000 to the Papua New Guinea Institute of Medical Research (PNG IMR) for its 50-year Colloquium.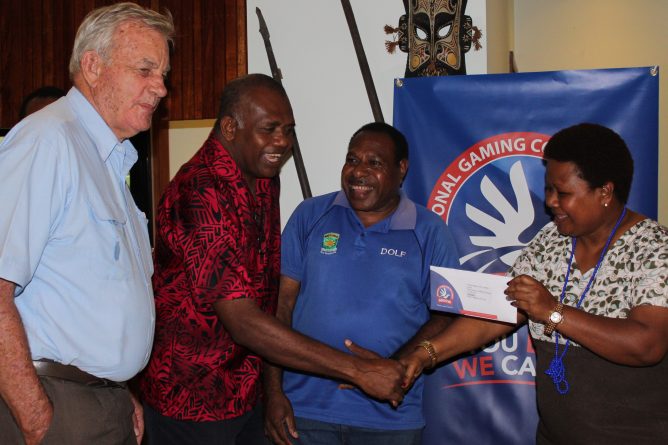 Also present to witness the presentations were representatives of the Medical Symposium Organising Committee, PNG IMR, DWU Executives, Modilon General Hospital, Madang Chamber of Commerce and Industry, and other business houses.